The commission of 2 panels each 4′ long x 2′ wide is complete, clients and artist happy with end result, and a huge relief, of the final outcome. It is a massive responsibility to undertake a commission that you know means a great deal to both parties.
I have found it an interesting process, and because the new work was inspired by a previous piece of mine, it was strange to see how my interpretation had progressed, and changed, I found that I could not re inhabit the same space I was in previously, and that my style had subtly altered.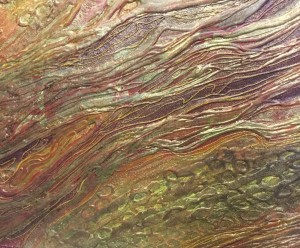 It only remains for the work to be hung in the clients home, and I will be posting pics of the panels in situe, cant wait.